Field Trips
The MAC is pleased to offer school field trip programs that complement and enhance elementary, middle school, and high school student learning. Our goal is to make history, art, and culture come alive through engaging exhibits, guided tours, and facilitated programs.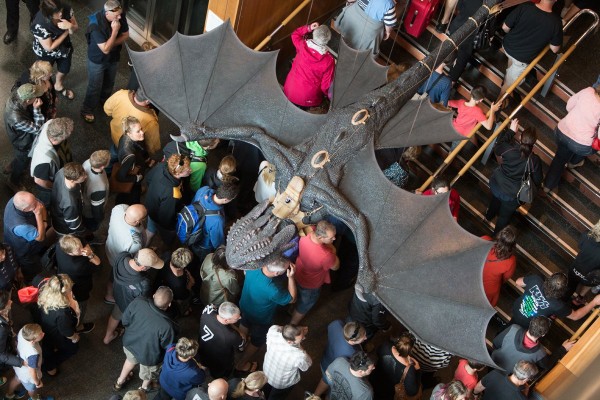 DreamWorks Animation: The Exhibition, Te Papa, New Zealand, 2015. Image by Kate Whitley
School Visits 2022-2023
Exhibit and Guided Museum Programs
for K through 12

Wednesday through Friday
10-11:45 am and 12-1:30 pm
Fall Availability October 13-December 14
Dates for January-June 2023 will open mid-October.
The museum is open for field trips Wednesday through Friday this fall. Morning visits begin at 10 am and end at 11:45 am and include a visit to museum exhibits and a tour of the historic Campbell House facilitated by a museum educator. Afternoon visits begin at 12 pm and end at 1:30 pm and include a visit to museum exhibits and a painting program facilitated by a museum educator. A second afternoon visit option includes visiting the exhibits only and ending at 1:00 pm.
Pricing
The price for school visits is $7 per student ($4 per student for Title One Schools).
School visits must have a minimum of 18 students and a maximum of 30 students. If you would like to bring more than one class, please register each class separately. One instructor and up to five chaperones will receive free admission. School visit groups are required to abide by a ratio of one chaperone for every five students. (additional individuals will be billed at the regular admission rate.) The minimum cost of a school visit is $126. Groups smaller than 18 are permitted with payment of the minimum fee.
Buses
Please schedule bus arrival and departure times to meet the 10 am or 12 pm start times and 11:45 am, 1 pm or 1:30 pm end times. Buses should arrive to the Museum's Group Entrance on Riverside and Hemlock five minutes prior to the program start time.
Lunchtime
Unfortunately, the museum does not have an indoor lunch space available for school visits. However, students may eat on the grass outside the Admission level on First Avenue before or after their program, as weather permits. Note: The Museum amphitheater is not a designated lunch space.
Please instruct students to stay on the grass and to use the sidewalk or outside stairs to return to their bus as the Group Entry doors are alarmed between programs. Once dismissed from your program you will not have access to the building from the Group Entrance. Take all belongings with you at this time.
Payment
Please provide the updated number of student participants at check-in. Checks are preferred — sorry, we can only accept one check. Make them payable to the Northwest Museum of Arts and Culture. Alternatively, you can be invoiced. Upon receipt of the invoice, payment may be made by check or credit card.
How It Works
Step 1:
Click on the "Make a Reservation!" link below. You will be asked to reserve a date/time for your visit. Advance the calendar to the desired month. Available days/times starting in October 2022 will be listed. Include your school name, your name, class grade level, and total number of students anticipated. Be prepared to provide billing information or choose to be invoiced.
Step 2:
You will receive a confirmation email.
Step 3:
Visit the museum etiquette page before your visit.
Step 4:
Upon arrival at the museum, please check-in and provide the updated number of students participating in the visit.
Cancellation Policy
If cancellation of a school visit is necessary, contact education@northwestmuseum.org immediately.
Additional Information
Prior to bringing your students to the museum we encourage you to visit in advance. Check-in at the Visitor Services counter with your teacher ID and your school visit registration information for a complimentary admission.
Please review our museum etiquette guidelines prior to your visit.
Contact the Education Department with any school visit questions.
Teacher Resources
WA State Standard Alignment - Dancing with Life: Mexican Masks
Guided Programs
The educator providing your tour will tailor the content to be appropriate for your students' grade level.
Morning Session Program Descriptions
Students will be led on a tour of the historic Campbell house by a museum educator. Click here to view the descriptions of tours based on grade level.
Afternoon Session Program Description
Studio Painting
Students will use artist-quality materials in a painting project. They will explore color theory while developing a palette, discuss and use artist tools and materials, and create their own painting. This program is facilitated by a museum educator using the VTS method to ensure a student-centered experience.
Make a Reservation


For additional information on our youth guided field trips, please email the Museum's Education Department at education@northwestmuseum.org